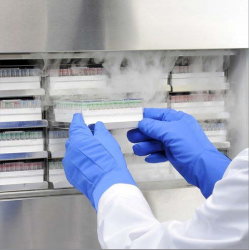 The data that lies within your biospecimen collections holds the keys to your research and, as we've discussed previously, it's imperative to maintain proper temperature to ensure sample integrity. This is a challenge ordinarily, but even more so when attempting to transfer samples.
Sample transfer is a necessary component of biobanking, whether changing the sample's tube size or moving to a new storage location within the biobank. In this blog, we'll review some reasons why samples may need to be moved and how to accomplish this without impacting the sample.
Why might you need to transfer samples?
There are two main buckets to which sample transfers fall; sample unit transfers or sample content transfers.
A sample unit transfer occurs when the sample is moved to a new box or location within the biobank. By consolidating sample types, reagents, or other customer categories during re-inventorying or organization events, it maximizes your storage density. Replacing old sample boxes and disposing of unknown samples to a temporary storage location can reveal additional capacity that was initially unavailable.
A sample content transfer occurs when the biospecimen itself is removed from its existing container to a new one. Oftentimes with legacy collections, the sample's container can deteriorate over time, requiring a new sample container. Sample content transfers can also improve storage format. By transferring the sample to a different sized tube or vial it can improve the writing space or label compatibility and provide the desirable format for future inventory requirements.
Sample Unit Transfer
Now that you're familiar with what constitutes a sample unit transfer, let's dig a little deeper regarding the important considerations when doing so, depending on the location.
Sample Unit Transfer to a New Box
When transferring samples to a new box it's important to inspect for mold, moisture buildup, aging, and structural integrity. You should also label the box before pre-conditioning it. Depending on the temperature requirement of the samples, the following pre-condition measures should be taken:
+1 to +10°C: Use wet/slurry ice, cold packs, or walk-in refrigerators
-10 to -30°C: Use dry ice (DI) station
-40 to -80°C: Use DI station
< -130°C: Use Cryocart/LN2 stations or DI (box by box)
To maintain temperature when conducting the transfer, use tweezers and refrain from touching the tube body. You can also use a CryoCradleTM, an aluminum alloy that acts as a heat sink to remove heat from the specimen.
Sample Unit Transfer to New Storage
If you're transferring a sample unit to a new storage location you must limit the time of exposure and frequency of freezer door openings. There are several transport vessels that can be used to help move the units:
+1 to +10°C: Insulated cooler with ice or cold packs
-10 to -30°C: Dry ice (DI) cart or insulated cooler with DI
-40 to -80°C: DI cart or insulated cooler with DI
< -130°C: Cryocart or dry shippers with temperature monitor (for temporary hold time)
Depending on the process, if you are transporting right after re-inventorying, the samples should be transported rack by rack. When conducting the unit transfer, avoid freezing refrigerated samples and thawing frozen samples.
Sample Content Transfer
Biological samples stored at cryogenic or ultra-cold temperatures need to be thawed as rapidly as possible. Why? Because thawing and re-freezing is the most stressful series of events a frozen biological sample can undergo. Thawing quickly provides the best chance to "outrun" the formation of harmful ice nuclei during the warming processing.
To do so, place the sample container in a water bath at 37°C and gently agitate if needed to accelerate thawing. When the sample is thawed, wipe the exterior of the container with a disinfectant such as alcohol to prevent contamination during the sample transfer process. By carefully following good thawing practices you will be more likely to maintain sample quality.
Sample transfer procedures should be performed only in an environment that is in accordance with safety practices and procedures. The liquid transfer device must be properly calibrated and ancillary products should be within reach of the workspace. You can use sterile or filtered pipette tips to conduct the transfer into the new container.
After the sample is transferred properly secure the container with a compatible cap or seal and ensure that the new sample container is appropriately labeled for future identification. It's important to log that the sample was thawed and transferred to a new container. Finally, you'll need to cool your sample to refrigerated, frozen, or cryogenic storage temperatures using appropriate methods for the sample, while also incorporating the appropriate rate of cooling for your sample type into your protocol.
Download the case study to learn about how a government contractor required the development of a repeatable and effective pack out which could maintain steady temperature during transit for the transportation of vaccines.