Despite the complexity of today's drug supply chain and high cost of drugs, we as an industry base many of our supply decisions on simplified estimates of how much drug will be needed. This can compromise trial completion and cause unnecessary expense. Many of our customers are becoming aware of these risks associated with drug supply estimates and are looking for ways to more accurately determine the amount of drug needed for each specific trial. Luckily, we have access to technology to help us navigate the complexity.
Let's consider overage as an example: often, an arbitrary percentage of overage is added to the estimated drug demand forecast as a general rule of thumb. Why? Because projecting how much overage you will need is complex and can appear overwhelming. While some companies have projected overage with some level of success and even created complex systems to do so, the methods used to date might not be the best or most accurate because they are often based on deterministic or statistical distribution models that make no or only theoretical assumptions about variability.
The first step to better estimating overage is to better understand its purpose. Estimates for drug demand in a trial are based on inherently random variables such as treatment group assignment, dose titration, and enrollment dates that result in multiple possible scenarios and introduce uncertainty in the amount of drug that is actually required. Overage helps to cover the uncertainty in the demand projection, by providing the amount of excess materials required to maintain a safe supply chain for the patient and enough supply for successful trial completion. This excess is needed when we can't precisely predict patient randomization or compliance.
What happens if overage is poorly planned?
If overage is too low: the trial runs out of stock (at least one package type is depleted at the central depot). This can happen if recruitment is faster or retention is better than planned and can compromise trial completion.
If overage is too high: unused materials remain at the sites and depots at trial completion.
In the second situation, this excess drug is defined as waste: drug that is not required to maintain patient safety and successful trial completion. Waste quickly becomes expensive when you consider not only the cost of the trial drug but also the prices of comparator needed for standard of care comparisons. How much waste you end up with is determined by your effectiveness at estimating overage.
Using an arbitrary overage as your estimate can result in overage that is either too high or too low. Therefore, for the safest and most successful trial outcomes, at the lowest cost, each trial should be evaluated separately, to determine how much site supply is needed to accommodate at least most of the scenarios that can possibly unfold. This is where Monte Carlo simulations come into play.
With Monte Carlo simulations, you can produce large sets of scenarios for a clinical trial by running the trial multiple times – assigning different values to the random trial parameters in each run. Other fixed parameters (i.e., dispensing schedule) are also included. Considering multiple scenarios provides empiric rather than anecdotal information to site supply settings; Monte Carlo simulations perform multiple passes to test either end of the spectrum of drug supply, from the highest need to the lowest need, allowing you to test the very upper limits as well as the minimum floor value.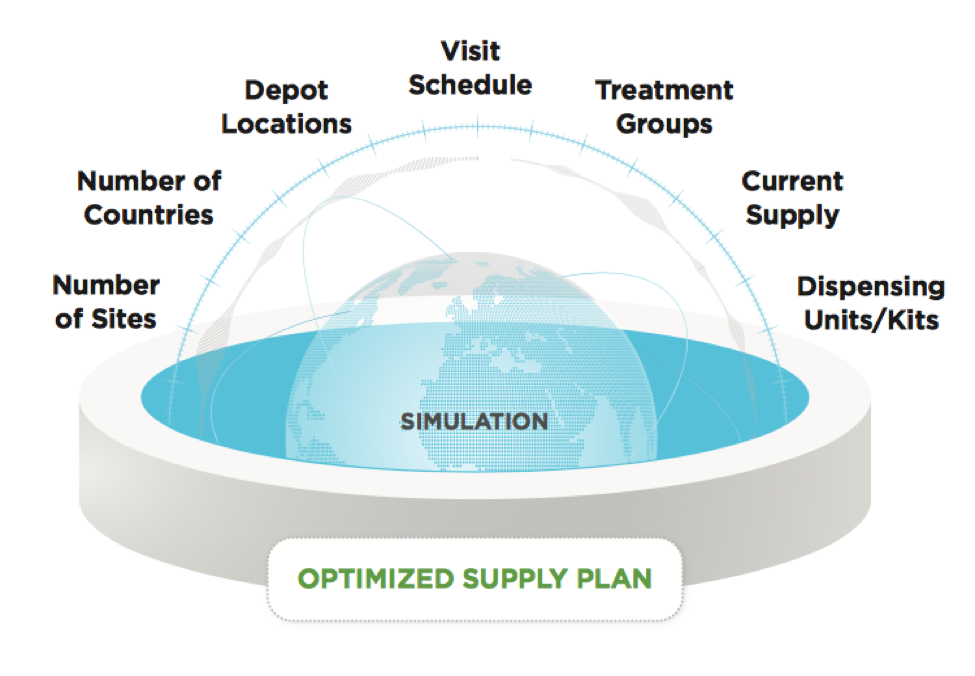 The Monte Carlo simulations in Optimizer provide what could truly happen in the study for patient randomization, loss of patients, drug availability, drug use and resupply needs.
The Clinical Supply Optimization team at Fisher Clinical Services has extensive experience with Monte Carlo simulation, having deployed the technology with over a dozen customers. We've recently added Bioclinica's Optimizer to our suite of supply chain management tools and are already utilizing the technology successfully by anticipating and proactively avoiding supply chain challenges with complex clinical trial designs. Ultimately, tools like Optimizer enable our objective of ensuring patient safety by having the right amount of material available with an appropriate investment in inventory cost.