Meet Peggy! As a Senior Project Manager, Peggy has been with Fisher Clinical Services for over 9 years, and with the Comparator team for the past 8 years. As their initial customer service representative, Peggy supported the entire portfolio of Fisher Clinical Services Comparator clients. In time the team expanded and, due to her long-standing client relationship, she now supports a key strategic account.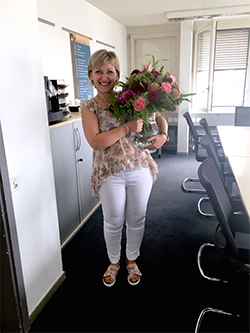 Peggy earned her time in the Fisher Clinical Services "Spotlight on Excellence" because of her passion for solving problems and delighting customers with her exceptional level of service. Or, as she describes it, "I'm built for customer service."
At the time Peggy first began working with her primary account, Fisher Clinical Services was one of ten Comparator suppliers. Starting with small projects, if the initial client request wasn't easily satisfied, Peggy took pride in identifying alternatives. As she states: "I never come empty-handed." This dedication to solving a client's challenges,
combined with her relentless commitment to service, has led to a dedicated relationship where Peggy serves as the single point of contact for a sole-supplier, multi-year agreement for Comparator sourcing.
Today Peggy works with 34 individual Clinical Supply Leaders (CSL), each with their own unique requirements. It's the kind of challenge where Peggy thrives--applying her excellent communication skills, demonstrating flexibility and delivering service excellence that so delights her clients they send her flowers in appreciation of her support.
Click here to read how Peggy's persistence, positive attitude and professionalism paid off for one of her clients.
This case study reviews:
Peggy's instrumental role in facilitating communication between sponsor and comparator drug manufacture
Her proactive management of the project helped the client meet their timelines despite the hurdles of obtaining the comparator drug product