The pharmaceutical industry is experiencing significant growth and demand for a cold supply chain driven, in large part, by the shift towards biologics, precision and personalized therapies. In fact, a 2016 Visiongain study1 predicts that by 2026 the cold chain clinical trial logistics market will be worth $3.8bn, accounting for 41.6% of all total clinical trial logistics spending.
Clinical trial Supply and Logistics Market Forecast ($bn), 2015-2026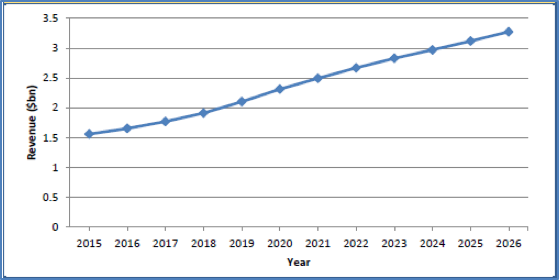 Source: VisionGate1
Complex and customized therapies often require strict controls and constant environmental monitoring to ensure product integrity. To address the rising demand for cost-effective solutions that deliver impeccable results, the logistics industry has provided improvements in three specific areas:
1. Cold Chain Packaging Solutions
When selecting a packaging solution three questions top the list:
What is the product worth – or in other words, what is the risk of loss? This will influence unit cost threshold.
How much and where is the product moving? This dictates the required hold time.
What is impact of temperature deviation? This guides selection of the appropriate type of shipper.
Given the increase in high product value, long distances and strict temperature controls, the industry is shifting towards the use of active shippers, or passive shippers using Phase Change Materials (PCMs).
Recent years have brought significant innovation in the areas of reusable shippers and PCM used to manage the environment. There are ever-increasing options available to support green initiatives. Shippers are being manufactured from lighter weight materials, with different internal dimensions and with a range of hold times. The resulting higher payload and reduced TARE weight deliver improved cost effectiveness.
Advances in PCM are allowing a shipper and its contents to 'hibernate' if placed in the environment it's conditioned to, effectively stopping the clock and suspending time. In a multi-leg journey this can translate to significant cost savings--it may eliminate the need for both in-transit material replenishment and a temperature controlled vehicle for final mile delivery.
2. Tracking & Monitoring of Sensitive Shipments
Radio Frequency Identification (RFID) is a well-established, proven and cost competitive means of tracking material. As product value and sensitivity increase, sophisticated track and trace capabilities are required to monitor a shipment 'door to door.' Global Positioning System (GPS) trackers are becoming increasingly popular, enabling real-time monitoring. Advanced, re-usable data loggers are available to provide additional metrics such as humidity, shock, U/V exposure and tilt. Remember that in order to manage overall costs, it is important to match the solution technology to the value and required conditions of the product being shipped.
3. Air Carrier Cold Chain Capacity & Technology Advances
As clinical trials have become increasingly global, the demand on infrastructure has never been greater. In fact, the availability of a dependable cold chain infrastructure can ultimately influence the country selection. To meet the demand for pharmaceutical-grade cold chain capacity, air carriers in gateways/ports of entry (Philadelphia, San Francisco, Singapore, Zurich) have enhanced their facilities. In addition to their continued investment in infrastructure e.g. 2° to 8°C cold space and validated freezers, some carriers have created pharma-specific buildings supported by detailed Standard Operating Procedures (SOPs) governing freight handling, such as accepting large active shippers and plugging them in to maintain desired conditions.
These cold chain capacity advances are not limited to the on-ground airport facilities. Carriers in the EU and Middle East have invested heavily in on-board technology allowing a pilot to control the temperature in the cargo hold, reducing the extreme temperatures experienced on long haul international flights. The more moderate temperature prolongs the life of a shipper and can enable use of less robust temperature systems.
Pharma and Biopharma companies must remain focused on the science that leads to breakthrough therapies. To serve as trusted advisors to their clients, third party logistics professionals, such as Priority Solutions International, monitor critical industry developments and proactively invest in their technology and knowledge resources. By engaging their expertise early in the planning process, they can design an optimal cold supply chain solution, ensuring these vital therapies are delivered to the patients in a way that maximizes opportunities for successful outcomes for both sponsor and patient.
1VisionGain: Clinical Trial Supply and Logistics Market for Pharma 2016-2026: Analysis of Manufacturing, Packaging, Cold Chain and Supply Chain Management