Smart packaging solutions for clinical trials are primarily focused on patient compliance and engagement. During a clinical trial, enrolled patients typically need to maintain records that document, among other things, their drug administration. Many don't take the time to do that real-time and, as a result, their data is subject to error. Patient non-compliance numbers have been reported at 20% up to 55%. With this level of risk, Sponsors must increase enrollment targets to ensure they collect the required data.
To help manage rising drug development costs, the industry is leveraging technology to make maintaining compliance easier for the patient. Data quality is improved through uploads of data documenting dosing information. At the same time, improved communication is enabled between the patient and trial stakeholders.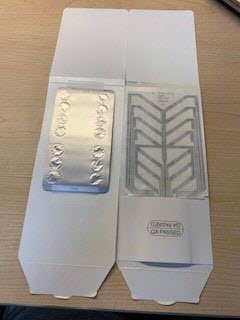 To improve data regarding patient compliance:
Blister packs can communicate details such as medication type, extraction time, and which cavity the drug was extracted from.
Bottles can include RFID technology that records when the cap is opened.
Drugs have been approved that include sensors that report when the drug is ingested
Auto-injectors, especially wearables, can be equipped with technology that uploads drug administration data.
To improve patient engagement:
Given near- or real-time data, Sponsors can enable services such as reminder notifications, informational messages, opt in connections with trial participants
With regards to drug dosing and patient compliance – while some of these 'smart options' are compelling they aren't perfect. For example, a smart 'blister pack' isn't helpful if a patient extracts multiple pills at one time. While it may be possible to record a bottle cap was opened, we can't control how many pills/capsules may have been removed.
From a cost perspective, it should come as no great surprise that these technologies can significantly increase the cost of a packaging project. For example, with a blister pack, the technology is typically customized and must integrate with the package, driving costs up as much as 2x to 4x a standard project.
The good news is we continue to see an increasing number of options which support flexibility and accuracy at improved price points as the industry continues to evolve.
In a related topic, 'smart' labels have provided great improvements within the industry as it relates to patient engagement and, hopefully, retention. A 'smart' label typically includes a scanned code or device which automatically links the patient to a secured resource center. Detailed product information can be provided in a multi-media fashion, including instructional tutorials on dosing, usage, precautions etc.
There is no doubt these are exciting times in the world of clinical trial packaging. Smart providers are actively exploring all options and are using them in support of selected client projects where the incremental cost is off-set by the associated benefits.